What is Multicast?¶
The Multicast function allows you to transmit the screen content of a device to multiple displays simultaneously using a paired transmitter.
Several participants have the possibility to transmit their screen content to several displays at the push of a button. Only one participant at a time can execute this function.
Note
Please note that the Multicast function is not supported on the QuattroPod Lite. Any QuatroPod receiver (Standard, Deluxe, or Mini) that is to be multicast must be configured accordingly.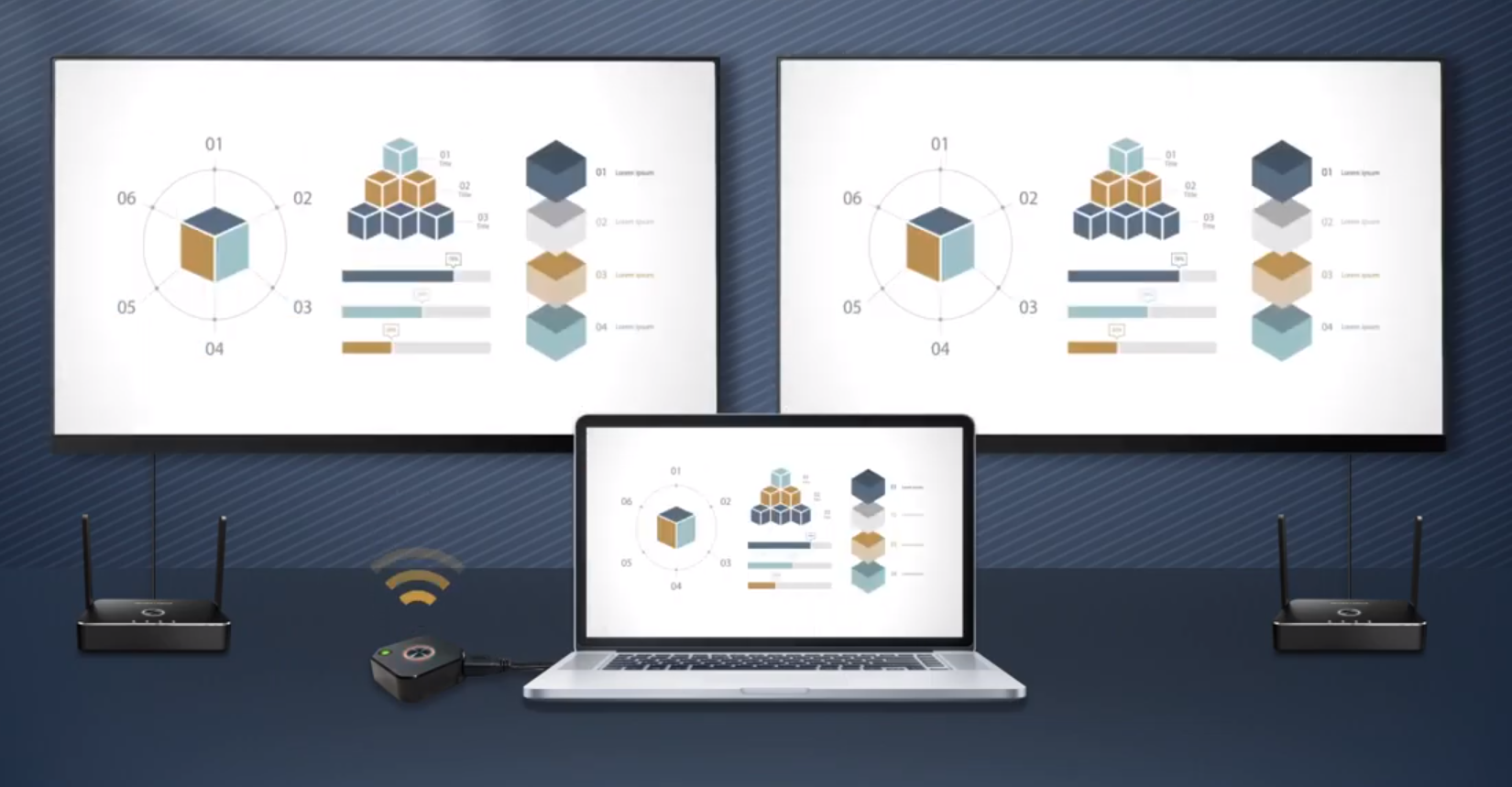 Requirements¶
Supported receivers: QuattroPod Standard, QuattroPod Deluxe, or QuattroPod Mini.

You need a Wi-Fi access point.

Your router must accept the QuattroPod Sender / Receiver broadcast packets.

All QuattroPod receivers must be in the same network.
Check firmware version¶
Turn on the QuattroPod receiver. When the landing page appears, check if the minimum required version [1.8529.10] is displayed as shown below. If necessary, please upgrade your firmware.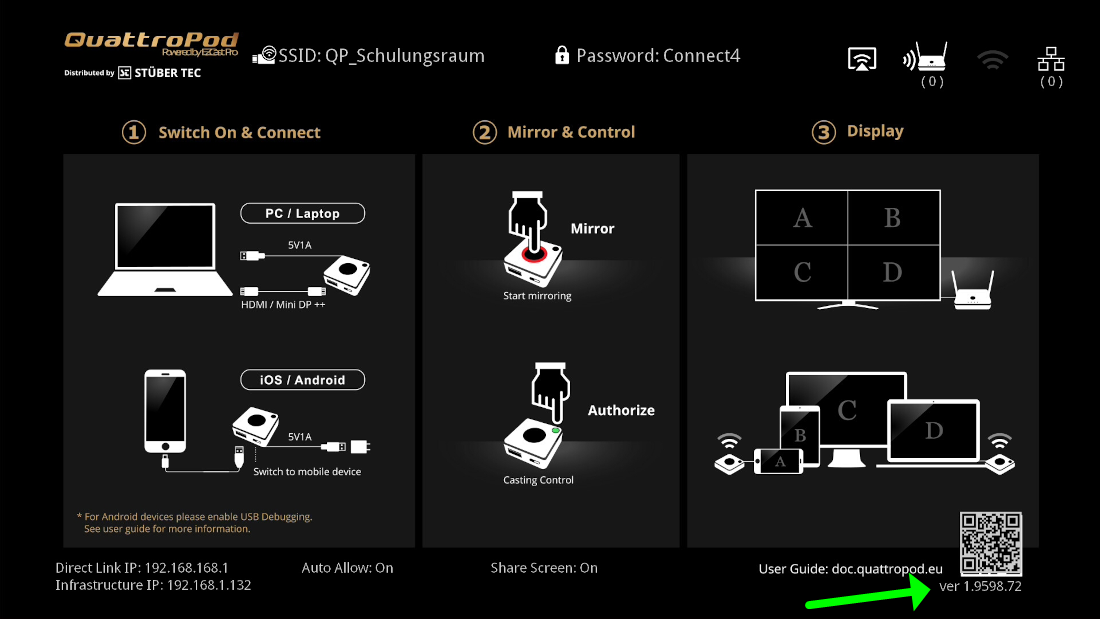 Open advanced settings¶
To access the web interface, connect your end device to the QuattroPod`s SSID. The credentials will be displayed at the top of the screen: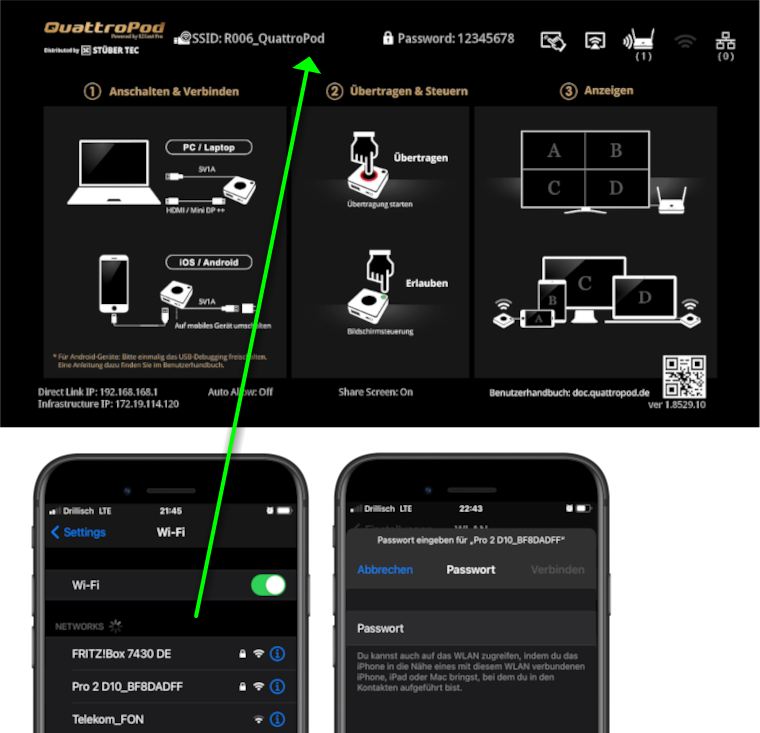 In the address bar of a web browser, enter the Direct Link IP of the QuattroPod. The settings interface of the QuattroPod appears: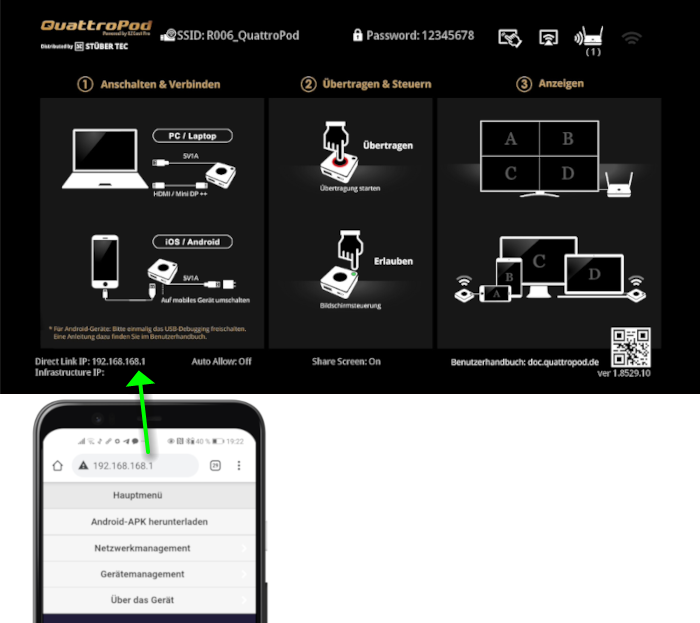 Log in as admin¶
Enter the admin password and click OK to log in. By default, the password is 000000. If this password is not accepted reset the device via reset switch.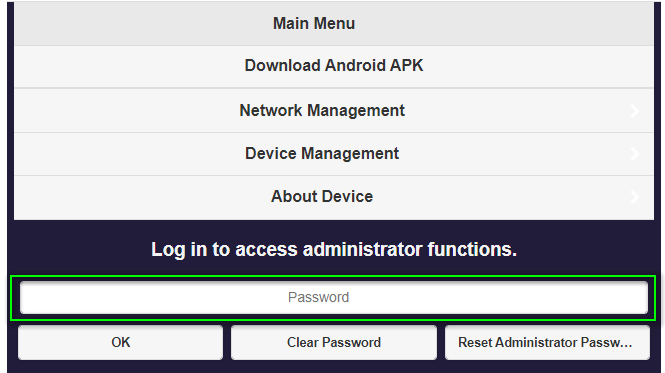 Enable multicast¶
Select the menu item Admin Settings: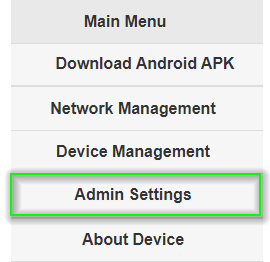 Select the menu item Multicast:

Activate the Multicast option. Next, enter a name for the cast group in the cast group field. Finally, enter the SSID and password of a Wi-Fi e.g. the Wi-Fi of your school over which the multicast data should be sent:
The settings will only take effect after a reboot:

After restart, the receiver starts in multicast mode. The specified cast group and the connected Wi-Fi are displayed at the top: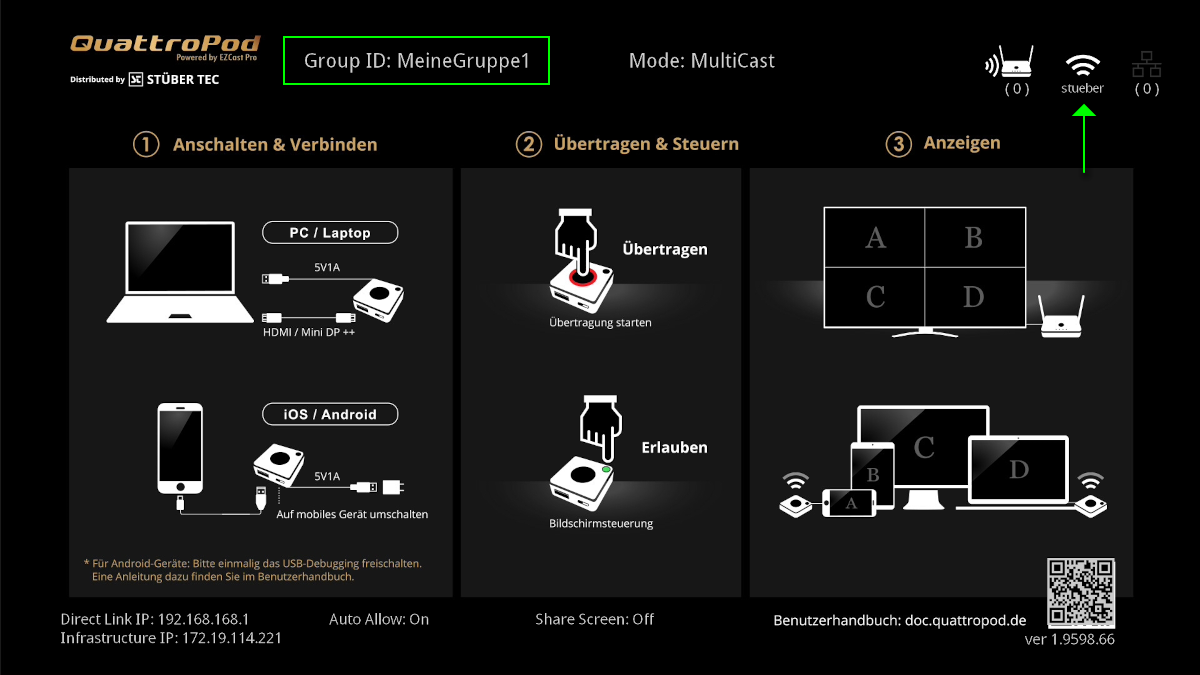 Pair transmitter¶
Switch the default transmitter or the mini transmitter to PC:
Connect the transmitter to the USB port of the receiver and turn on the receiver:
The message "Pairing... " will automatically appear on the QuattroPod`s home screen.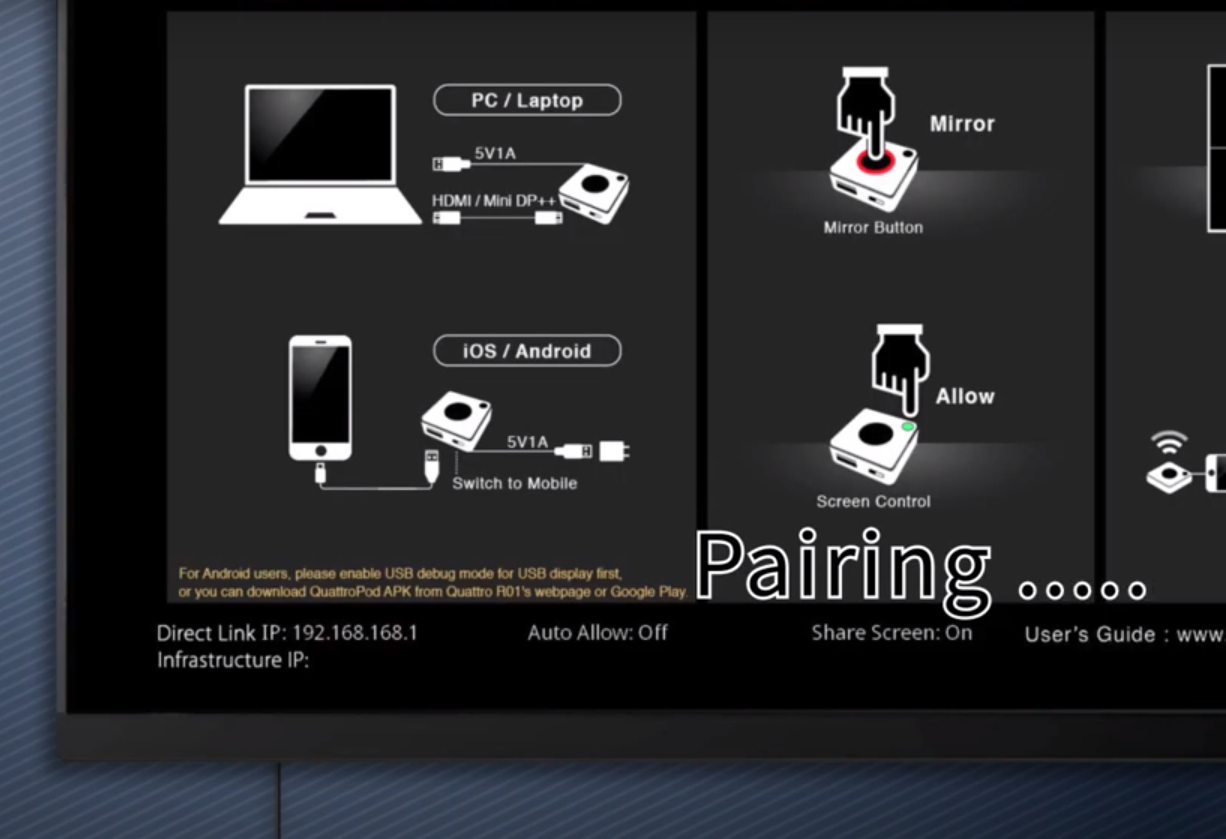 When pairing is complete, the message "Pairing OK " appears.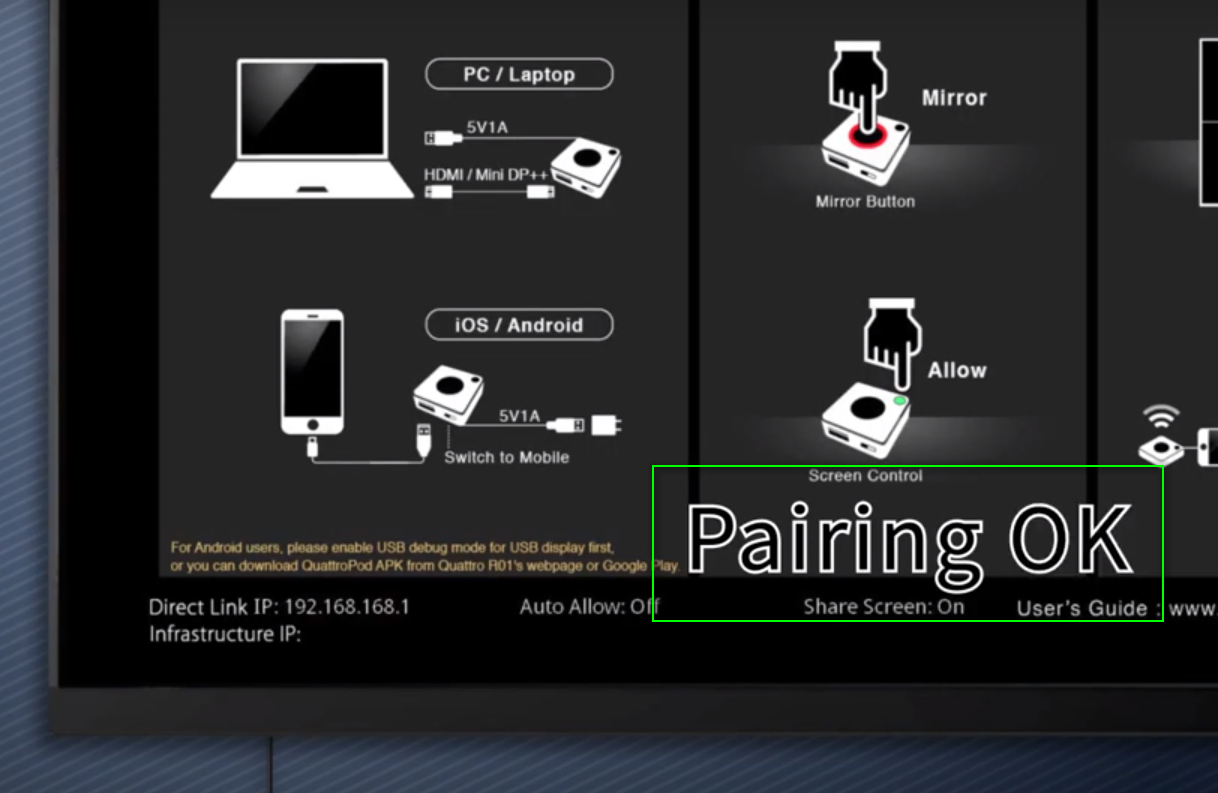 Press transmitter button and show contents¶
Connect the transmitter to your terminal and simply press the red transmitter button.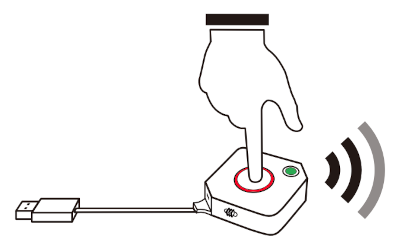 Note
For comprehensive instructions on how to connect the transmitter to your specific terminal device, please refer to the quickstart guide.